Seraph was a Christian rock band from the early 90's based in Memphis, TN. The band was first formed around 1989, and played several shows around the Midsouth area. They even played the Mid South Fair talent contest, which was broadcast on local television. There should be some VHS copies of that somewhere (if you have one, let me know - mine's been missing for a while now). They were the opening act for several big name Christian rock bands of the era, like Guardian and Mortal. In 1994, they were signed to Big Toe Records, and released a split EP with labelmates Urgent Cry; each band contributing 4 songs each.

Seraph split up during the early half of 1995. A year later, the lead singer, John Cooper, went on to form the Grammy nominated band Skillet with Ken Steorts (guitarist for Urgent Cry).

Seraph recorded only one album for Big Toe Records. It was recorded at the Warehouse Studios in Memphis, TN, and it was co-produced by Ken Steorts. This album was a split release between Seraph and Urgent Cry.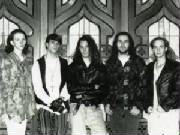 Check out this interview with Erik Stone of SERAPH!
Click here to visit SERAPH's myspace!
-------------------------------------
ALKEME *Korey Cooper and Lori Peters' old band*
Before joining Skillet, Korey Cooper, Lori Peters, Ro (Korey's sister), and other people from their church in Wisconsin were members of the band Alkeme.
Alkeme album "Drenched" 1999