**Frequently Asked Questions**
Why is the band named "Skillet"?

"Let's see, Skillet started in 96 in Memphis (TN), I am the only original member left of the band. We [John Cooper, Ken Steorts, and Trey McClurkin] thought of (the name) Skillet, because we are all from different bands, and it was kind of like cooking, taking all of these different ingredients throwing it all in to make Skillet."
- John Cooper (from interview by Hidden Agenda)
What is a panhead?

"You see, there are three levels in 'Skillethood.' Those who don't know, those who become 'Skilletfanz' through hearing our music, and then 'Panheads,' those who come to three or four shows traveling up to 10 hours, bringing skillets, banners, writing on their cars, and so forth. Of course, we love them all, but we have a special place in our hearts for 'Panheads.'"
- Ken Steorts (information taken from panheads.org)
How did the line-up changes in the band occur?

"I think it is because we didn't really know what was supposed to happen. We weren't even thinking of doing it full time, it was more of a side project. I had another band I really liked, and the guitar player [Ken Steorts] had his own band. We were like we will start that side project, that will be kind of fun. Then it kind of took off really quickly. Took off as in we got signed to a label. After 2 to 3 years, you start wondering what I want to do with my life. Our guitar player at the time was 10 years older than me and had 2 kids. I think he realized he needed to be home with his family. Then our drummer [Trey McClurkin], he really wasn't even looking to play with a band. He was graduating college, and we needed a drummer so he filled in until we got a drummer. We did a demo for the purpose of finding a drummer that he played on, and we got signed on. He thought it was fun, after a few years though, he was a business guy, and he wanted to go start some business. At the point, it became easier because it became my band and my project. Lots of different bands work in different ways. I find that I like doing my own thing more. So then I was like I will find my own guitar players, I did a couple records a lot on my own. But it has still helped me, that's why I still write most of the guitar parts and I write…well I co-produced our newest record. It kind of took me from just a band member to a producer. So now I co-produce my own stuff."
What was InvincibleWear?
"Invinciblewear will be functional in conjunction with the Alien Youth release on August 28th. Invinciblewear has nothing to do with Skillet except for the fact that I started it and Skillet wears it. Invinciblewear eventually hopes to sell to retail stores and endorse other bands. The main reason I started Invinciblewear is because it is hard to find cool clothes that aren't in offensive surroundings. Now people can buy cool clothes without feeling that they are supporting something evil."
- John Cooper (from interview with
HMmagazine
)
**Unfortunately around October of 2003 Invinciblewear was shut down.
What does the cover of the album Collide represent?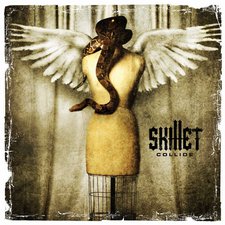 "It's just basically that we're trying to depict the image of faith and fear colliding. That whole struggle of wanting to live your life as a believer in a world that's bombarding you with fear and violence and hate everyday. That's just basically the biggest thing, honestly. With evil and wings... it mainly just looks cool! *laughs* But this was the idea behind it. And then the mannequin at first, I just thought really looks cool, but it does have the image of a lifeless body and then there's a war going on.
- John Cooper (from interview with
JesusFreakHideout
)
What does the cover of the album Comatose represent?
"When you look at the artwork for the record, it's got this boy kind of staring up to the side in a kind of mesmerized position and when you open up the artwork you see that he's kind of looking at this jumbled mass of electronics, tvs, computers, and equipment. And it's basically saying that yeah, we've become this technological based monster and communication's easier, more ways to communicate than we've ever had before... but yet we're feeling more alone as the year goes by because we're not really reaching out to other people. And there is a social, kind of conscious, message to the record of making the world a better place and looking around saying, 'What can you do to make a difference in this world?'"
- John Cooper (from interview with
Listenin
)
Who did the voice for the beginning of the "Alien Youth" song?
What does John say at the beginning of the song "Rippin' Me Off"?

Tracy, from the panheads.org boards ask Korey Cooper, and she says that John is saying "I must believe." They messed with his voice, so it's a little distorted.