"Close Encounters"
February 2002 (by CCMmagazine.com)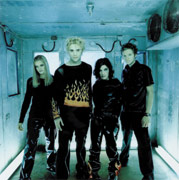 Just when you think John Cooper, the man behind (and in front of) Skillet's ever-expanding musical and theological curtain, is done careening us through more wild rides down the yellow brick road… Alien Youth pops on the scene.
But seriously, what else remained for Cooper to try? He already wielded a heavy sword, cutting and slashing hard-rock convention from his once-Memphis-based outfit and patching up the wounds with decidedly industrial/techno sounds as it relocated to Kenosha, Wis., adding Lori Peters (drums) and 17-year-old Ben Kasica (guitars) to the lineup. And he already gave the band a visual facelift, dispensing with its lovable shorts-and-T-shirt collegiate wardrobe and donning the gang with getups a few mascara swooshes shy of Kiss (read: leather, spandex, platform shoes and Goth makeup).
What else remained? (Seriously?)
A concept album.
No, we're not talking a Tommy knock off or related remnants popularized in the '60s and '70s. In fact, to hear Skillet's bassist-vocalist-primary songwriter describe it, the catalyst behind the creation of Alien Youth—and what these 12 songs are becoming—has been for Cooper a kind of prophetic calling: a gradually growing feeling that the church is weak and that it's up to this generation of Christians, of every age and background, to get it back into shape.
"It's been around from the beginning," Cooper says earnestly concerning the Alien Youth idea. "The church isn't supposed to be weak," the 26-year-old says emphatically. "But the truth is that we don't think we can make that much of a difference. A lot of us are just waiting for Jesus to come back so He can take us from this 'dreaded world.' So it was time for me to sing what I'm theologically passionate about—that the church needs to start living more like victorious people of God."
Cooper's wife, Korey, 29—who plays keyboards and sings background vocals—is equally committed to Alien Youth ideals. "We played a [church-based] evangelism conference last night, and three deacons got saved!" To Korey, that's a clear sign that Christianity has become commercialized, and that Christians "don't recognize the radicalness of the gospel. They're missing the whole point of everything. We're the religious people of the day—and we're in danger of missing it while it's right in our face."
So after a time of tossing around title ideas, most with the word "generation" attached, Cooper stumbled upon the idea of aliens, and started getting excited.
"It has a sci-fi feel to it, and there's a [new] twist…," he reveals. "Normally Christians say we're aliens and strangers and that we don't belong here. But the truth is that we do belong here!" Skillet, he says, is out to encourage this generation to be bold while on earth and take it back for God. And speaking of generations, don't let the "youth" part of the album title prejudice you too much. According to Cooper, "this generation of faith isn't just young people or white people—it's all kinds of people. There are no special nationalities. No certain age group. No distinctions."
The band's fourth studio record is easily Skillet's brightest-shining moment, full of powerful, insightful lyrics and a smart mix of super-hard rock, electronica and plaintive praise & worship that should satisfy every fan it's attracted since 1996.
And despite the many critics—yours truly included—who compare Skillet's current sound to Nine Inch Nails or Marilyn Manson, Cooper insists he's far from a fan, nor does he feel musically influenced by either outfit. (He did, however, scout a recent Manson concert and got a song out of the experience for Alien Youth—"You're Rippin' Me Off"—in response to Manson's anti-God rants.)
"I can say that listening to those records has influenced me more in terms of production aspects," Cooper notes. "The guitars are so big—they sound like thunder in the city! But I'm more of a pop fan. I like Seal, INXS, Madonna. And '80s new wave—Howard Jones and Depeche Mode—is even a bigger influence."
In line with the hard-hitting themes on Alien Youth, Skillet plans to bring quite a bit more to the table than simply live music and a stage show as the road beckons this fall. "I always wanted Skillet to be a lot more than a band," Cooper says. "Right now we're working on a six-week [youth ministry] curriculum—the five essentials of an alien youth.
And the idea is that if you don't do them, you're not part of the alien youth." (At press time, information about the curriculum was planned to be available at www.alienyouth.com.) Skillet is also planning to open a youth center through its church in Kenosha, where the group will hold "massively evangelistic," once-a-week worship meetings and work toward revival in the city. Skillet will also begin promoting Alien Youth Groups by next January. "They won't be in place of youth groups," Cooper says, "just smaller groups with student leaders within existing youth groups."
When most Christian bands eschew major sonic changes and cling tightly to the comfy environs of Nashville, Skillet—with its ever-evolving sound and its uncompromising message—seems like minstrels marching to the beat of a different drummer.
"If [the Christian message] gets more watered down because [Christianity has become] more acceptable," Cooper says, "then that's not acceptable! The lines of what it means to be a Christian are really unclear these days. I want to see religiosity die. The church in America is more interested in making church members happy than doing what the Bible talks about."